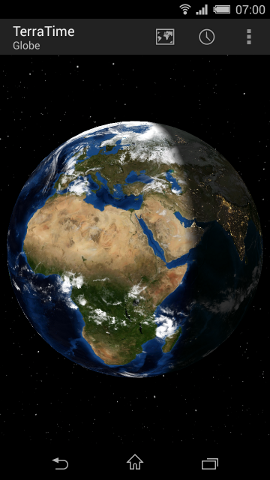 The World in the Palm of your Hand: a live 3-D simulation of the Earth in space. Turn your phone to see the other side of the planet; give the globe a spin with the touchscreen (or trackball, if your phone has one). The night shadow travels across the globe, seasonal changes come and go, and the clouds move every few hours.
The TerraTime Globe is built on the fly from high-resolution NASA images, rendered with your phone's 3-D hardware, and uses its position sensors to respond to your movements. The result is an engaging, astronaut's-eye view of a virtual Earth on your handset's screen. A static screenshot doesn't begin to do it justice; you really need to try it for yourself!
In addition to controlling your viewpoint over the planet, you also have a full range of other options:
Specify how frequently the day/night line on the globe will refresh
Turn on the night side, city lights, clouds, polar sea ice, stars, sun, and moon for the full photo-realistic effect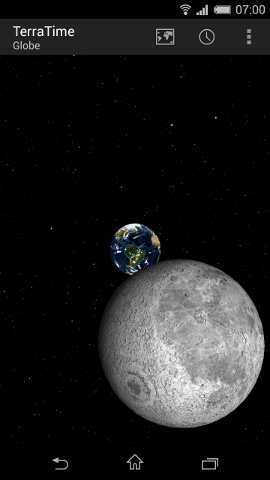 Or, turn all these layers off, effectively giving you a virtual classroom globe on your phone
Orient the globe relative to either the ecliptic or terrestrial poles
Southern-hemisphere users might like to know that they can place the South Pole on top!
Zoom in for more detail, or zoom out from the earth to see the moon up close. Includes multitouch zoom (on phones so equipped)
Add globe widgets to your home screen, in a variety of sizes
Use the globe as a live wallpaper, showing its real-time simulation in the background of your device's home screen*
*On Android 2.1+, the wallpaper is also interactive, responding to touch and handset orientation in the same way as the globe activity within the app. But note that TerraTime is one of the only apps offering live wallpaper on older versions of Android as well!